Masters of Analytics - Grant & Kimberly Austin, A Masterful Pair
After successful careers in Cybersecurity and IT, couple Grant and Kimberly Austin decided to go back to school and never looked back.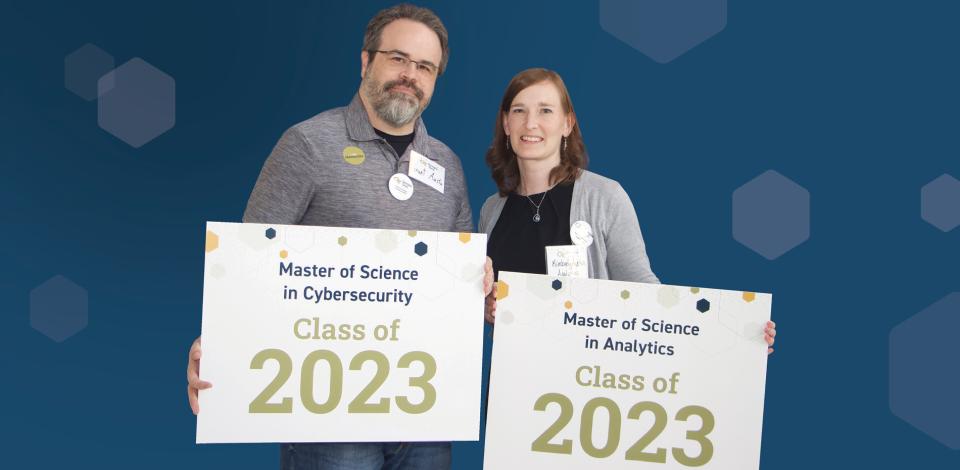 If you heard two spouses had each decided to get a Master of Science degree, mid-career, at the same university within months of each other, you would probably think they were on the same career path, pursuing a common goal in a shared field.
However, in the case of Grant and Kimberly Austin, you'd be wrong.
They've approached their careers from different perspectives and developed distinct areas of expertise, one a security advisor with a major corporation and the other a business entrepreneur in IT. While they both started their careers at the same time after receiving their undergraduate degrees, they found themselves at divergent points on their respective paths.
What they did share, in addition to two children, was a desire to take proactive steps in determining the direction of their future professional lives. And that is where two very distinctive Georgia Tech Online Master of Science (OMS) programs came into play.
For Grant, the opportunity to specialize more deeply in his field by obtaining an advanced degree in cybersecurity was the right fit. For Kimberly, the opportunity to pivot into one of the hottest and most versatile fields - data science - aligned with her interests, needs, and strengths.
You were both well-established in your separate career paths. What made you decide to return to college for your master's degree?
Grant: I was working as an Information Security and Compliance Advisor at Southeast Toyota Finance when the company began offering a new employee education benefit. I started thinking about what would it be like to go back to school and further my education. At that point, I had been in the cybersecurity field for 10 years, and my career had evolved from the purely technical side to evaluating contracts and proposals, managing privacy compliance, presenting to committees and boards, and explaining risk and cybersecurity to non-cybersecurity people.
Kimberly: Unlike Grant, I wasn't really thinking about getting a master's degree. I had sold my IT business in 2020 and was pondering what to do next. I knew I wanted to shift away from the IT support work I had done previously and focus on something with numbers. I mean, I make spreadsheets for recreation! So, I was ready for a complete career change.
It can be challenging to have one parent pursuing a master's while raising children. What was it like when you were both doing it at the same time?
Grant: We had to coordinate things between us and our kids so that we could be available when needed, but I will admit it wasn't easy.
Kimberly: There have been a lot of compromises while we were both enrolled and raising two children. We've relied on more prepared foods and quick meals. We also try to attend every home football game where my daughter performs with her marching band. Sometimes that entailed doing homework in the stands!
What made you each decide to pursue a master's degree from Georgia Tech?
Grant: I researched a number of cybersecurity master's programs and knew Georgia Tech's Online Master of Science in Cybersecurity (OMS Cybersecurity) was the one for me. I applied, was accepted, and never looked back. I took one class per term while I continued working full-time and graduated from the program in May 2023. Three months later, I was offered a promotion by my employer who noted my recent degree as part of their decision.
Kimberly: For me, Grant, who was already enrolled in the OMS Cybersecurity program suggested I might like data analytics. The more I looked at it, the more enthralled I became. Seeing Grant apply what he was learning in real time to his career sealed the deal for me. I knew Grant was gaining knowledge that was directly relevant to his career, so that gave me the confidence that an analytics degree would provide a strong foundation for me to pivot my career. I applied to the Georgia Tech Online Master in Analytics (OMS Analytics) program, and soon we were both grad students at Tech. I am scheduled to graduate in December 2023 and have been working as a Senior Analyst at World Market since June 2023.
You each had different goals when you started the program, and you seemed to have achieved them even faster than you had hoped for, with a promotion shortly after graduating for you, Grant, and a job in a new field while still enrolled for you, Kimberly. What were your goals when you started your respective degree programs?
Grant: "My goal was to be a director of cyber risk management or director of privacy within five years. [And within months], I'll be the Director of Business Information Security for an automotive finance business unit. They knew I had the experience and skills to fit the role, and the master's degree showed that I was dedicated to expanding my knowledge and growing my career in cybersecurity."
Kimberly: "I started getting interviews for analyst positions about halfway through the program. A master's degree from Georgia Tech provided proof to potential employers that I was capable of doing analytics work, even though it was not readily apparent from my previous job history.
Applying what you learn in class directly to your job is a common theme with the Online Master of Science degree programs. Did you find that to be true in your cases?
Grant: The analysis I did in my OMS Cybersecurity practicum project was directly applicable to my employer's businesses. The education on privacy compliance in the Privacy for Professionals class was specifically relevant and impactful.
Kimberly: Definitely. From my courses, I learned which metrics are key to report on. I also learned coding logic and best practices from the program that I use in my current job. I'm looking forward to applying the skills I've learned in my upcoming practicum with my employer, combining Python and SQL coding skills with analytics knowledge to develop a model that will directly benefit my company.
Overall, what would you say about Georgia Tech's Online Master of Science programs?
Grant: There is not another master's program that compares to the quality of education or the value of the investment.
Kimberly: Since I grew up in Georgia, Georgia Tech has always been the pinnacle university for technical education. I was excited to find a program that aligned with my career pivot. It has been a lot of hard work, but worth every bit of the effort.
Written by: Laurel Ann Dooley