Coasting with the Clarks
Georgia Tech-Savannah's Russ Clark featured in Richmond Hill Neighbors for water sensor success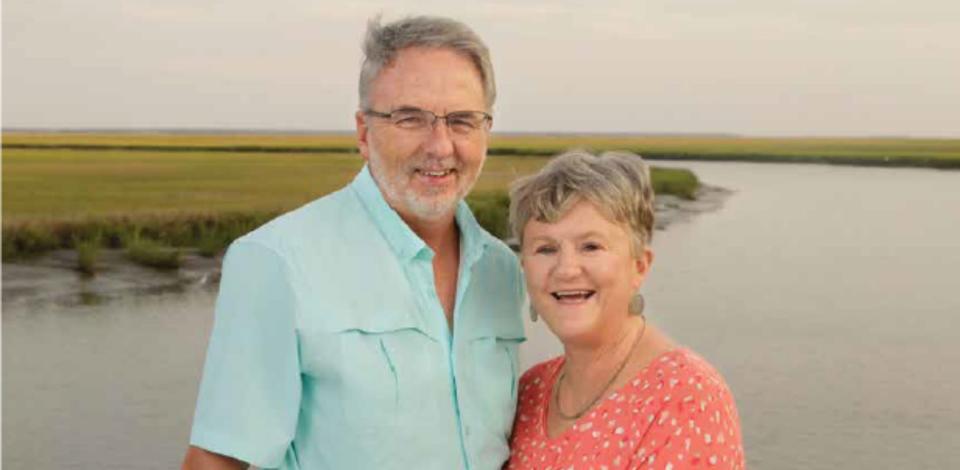 Russ and Karen Clark. Photo Cred: Megan Myrick Photography.
Russ Clark and his wife Karen were recently featured in the Richmond Hill Neighbors magazine, highlighting their life and involvement in the Savannah suburb. Russ Clark is the director of Mobile Technology & IoT Programs at Georgia Tech-Savannah, and his leadership in the Smart Sea Level Sensors program has been instrumental in keeping the coastal community safe from tide and flood risks.
Clark completed his bachelor's degree at Vanderbilt University and then went on to receive his masters and Ph.D. from Georgia Tech. Now, Clark splits his time between Georgia Tech's Atlanta campus, where he is the senior research scientist in the School of Computer Science, and its Savannah campus, where he directs the Mobile Technology and IoT programs.
In 2018, Clark helped launch the Smart Sea Level Sensors program, a partnership between Georgia Tech Savannah researchers, Chatham County Emergency Management (CEMA) and the City of Savannah. The project was born out of a lack of sufficient and accurate data to prepare for the increasingly frequent hurricanes along the Georgia coast. Clark, relying on his engineering and computer science background from Georgia Tech, worked with a team of research scientists to develop sensor technology that could affordably establish local visibility of water level conditions at each bridge in Chatham County, determine which ones need to be inspected, and relay necessary actions to be taken to ensure its safety.
The program is proving successful in Savannah and Chatham Counties, providing data to better predict weather and water patterns in the area, and plans have been made for its expansion along the entire Georgia coast.