Professional Education Receives Top Honors
GTPE recognized by leader in professional, continuing, and online education for excellence in marketing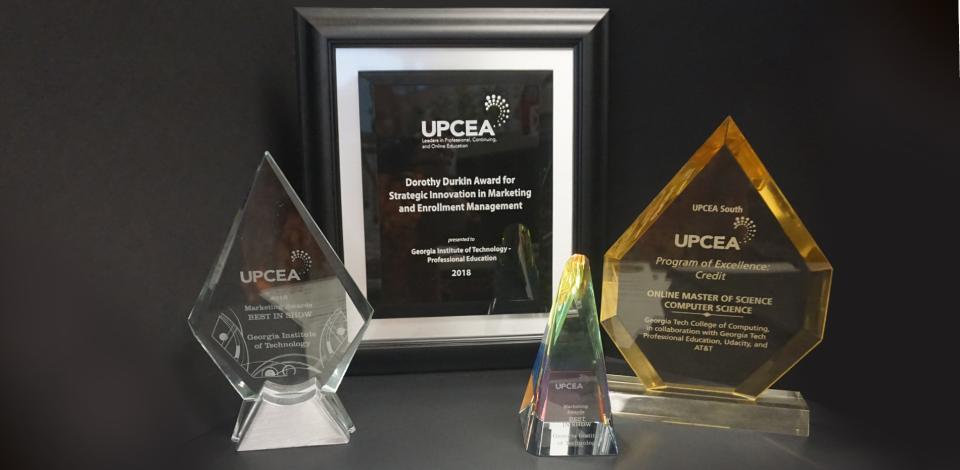 Each year, the University Professional and Continuing Education Association (UPCEA) recognizes outstanding performance in professional and continuing education. To celebrate the exceptional activities, people, and programs, UPCEA recognizes outstanding contributions in the field of professional, continuing, and online education through annual membership awards. 
Best in Show
GTPE's "Georgia Tech Traditions" Ad Campaign for the Georgia Tech Alumni Magazine received Gold in the Print Ad Campaign category as part of the 2017 UPCEA Marketing Awards. At the UPCEA Marketing and Enrollment Seminar, the campaign won the Division Award for Print Advertising and overall Best in Show across 196 award recipients. Designed to raise awareness for lifelong learning opportunities at Georgia Tech, the campaign focused on beloved traditions of the institute. Headlines reinforced these traditions while incorporating the concepts of advanced learning and workforce development. This was the second Best in Show for GTPE.
Association Award
Stefany Sanders, director of marketing, communications, and sales, was recognized with the 2018 Dorothy Durkin Award for Strategic Innovation in Marketing and/or Enrollment Management. The award is part of UPCEA's Association Awards Program which recognizes both individual and institutional achievement across the membership. Nominees are required to show creativity, a passion for new ideas, insight into market trends that drive educational goals, evidence of favorable positioning an educational institution program or service, and sharing of best practices. Sanders was recognized during the UPCEA Annual Conference in March 2018.
Marketing Awards
GTPE was honored for their excellence in best marketing practices and promotional pieces across six award categories among two divisions — print publications and interactive media. The entries were reviewed by a panel of marketing, communication, and design professionals and announced at the Marketing and Enrollment Seminar in October 2018.
Interactive Media
Achieving the 3Rs of a Connected Content Strategy – Reputation, Relationship, and Revenue, Gold
Flash from the Past! How Nostalgia-Driven Social Ads Connected Alumni with Lifelong Learning, Gold
Become mission-ready and command action with Georgia Tech, Silver
Beating the Odds – The Master's Analytics Bracket Challenge, Bronze
Print Publications
Defense Technology 2018 Course Catalog, Gold
Georgia Tech Professional Education FY17 Impact Report, Bronze
Georgia Tech-Savannah Brochure, Silver