Thinking Big and Plunging In
Genna Gold shares how Georgia Tech's Master's in Systems Engineering set her on a path to success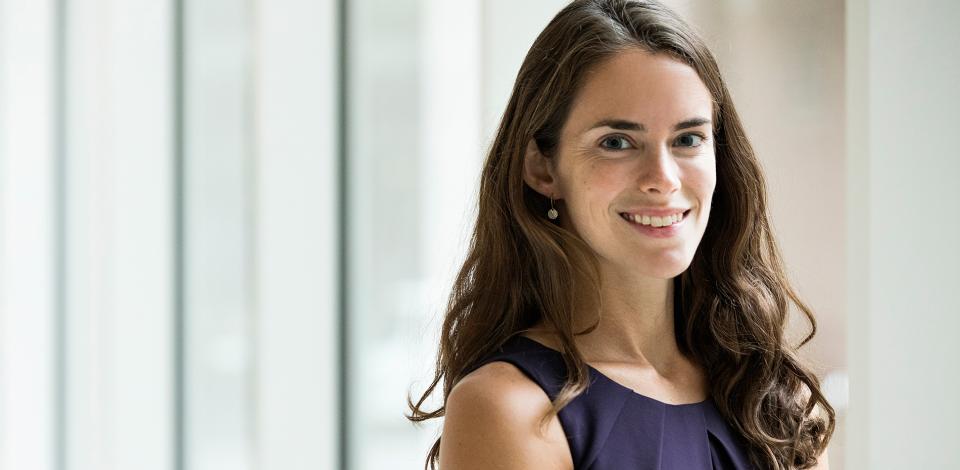 When it comes to work, Genna Gold is all about big. Big market, big product, big picture.
And, in the last two-and-a-half years, big change, at a rapid clip. "I'm a very on-the-go type of person," Gold said, giving insight into why embarking on Georgia Tech's Master's in Systems Engineering program, moving two months later and starting a new job didn't daunt her. "I enjoy that sort of thing."
Gold's professional journey began in 2013 when she joined General Electric Transportation in Erie, Pennsylvania, after graduating from the University of Maryland with a B.S. in Mechanical Engineering. While there, she entered the company's engineering leadership development program, which offers participants the chance to experience different aspects of the engineering field.
In the program, she discovered she liked working on an entire product more than individual components, a revelation that led her to locomotives. "With locomotives, we deliver the whole product," she said. "And I liked the fact that it was the bigger product line of our business."
The same big picture appeal of locomotive production also applied to the type of work Gold found herself drawn to: systems engineering. She realized that she enjoyed "front-end planning and the big picture, being able to make decisions and think about strategies." When the GE development program concluded, she took a position as systems configuration management and proposal engineer, which was a clear fit. The choice involved going from "deep-dive technical engineering to working with teams across the business, from engineering and sourcing to manufacturing, and figuring out the design and the game plan for how to actually implement the requirements."
Her affinity for the new role prompted her to pursue a master's degree. She searched for a program that would teach professionally relevant skills, allow her to continue working full-time, and not require relocating to a campus. Georgia Tech's Master's in Systems Engineering fit the bill.
As it turned out, the program exceeded her expectations. "Coming into it, you don't necessarily know if it's going to be like the online description. But it was more than that. It's the hybrid style of the program that is a unique opportunity — to meet different people from all over the world and form relationships that you wouldn't otherwise have had."
"You get hands-on experience with working in teams," she continued. "And everything you learn is directly applicable," like "tools and skills that help you organize complex problems and evaluate different options and how they will impact engineering and the system as a whole down the line." The take-away "is something that can be applied in all sorts of career paths."
Studying while working full time "takes time management skills," said Gold. "But it's definitely a doable task. Of course, there are some days when it's tough. You come home from a long day at work, and you don't necessarily want to hop back on the laptop. But it was worth that time and effort."
Women make up 50 percent of the most recent Master's in Systems Engineering cohort, but when Gold started the program, women were in the minority. While that might sound intimidating, Gold took it in stride. "Engineering is definitely male dominated," she said. "So it's not new for me to be the only female in the room. I'm pretty comfortable with it!"
But there have been times when being a woman in a predominantly male environment required fortitude and finesse. She recalled a time early on in her career when somebody thought she was the daughter of somebody else — "like it was take-your-child-to-work day." Gold and her co-worker proceeded to talk about the project. "And we just made it clear that that was not the case."
"In those situations, you have to make it obvious that you're here for a reason: because of your skills and because you perform well. Just show it. And either people will come around, or those around you will make it evident that, yes, she's here for a reason and you should listen to her because she knows what she's doing!"
That backing, she says, is key. "I try to surround myself with supportive people. That's been my strategy." She encourages other women to do the same. Her advice, "to young girls in particular, is to be confident in your talents and skills and realize that you don't have to be perfect. You don't have to know everything. You just have to be ready to learn."
She's noticed that confidence seems to be more of an issue with women. "I've heard of situations where females won't pursue a new job if they don't check all the boxes, whereas males will go for it even if they don't necessarily meet every single qualification." By holding back, she said, "women are missing out."
Gold herself has no problem plunging in. When she had the chance to take a new position and relocate to Fort Worth, Texas, she didn't hesitate. Having always lived on the East Coast, "I had never envisioned living in Texas, but I saw it as an opportunity to try something new!"
Less than two years later, GE announced that it was spinning off its transportation unit in a merger with Wabtec Corporation. In a touch of serendipity, the cohort preceding Gold's included some GE co-workers, and one of them is a leader in her new Wabtec team. "He was fully aware of everything that I'd learned through the program and all the skills that I had, so it definitely made him enthusiastic to add me to the team."
In February, Gold started her new job, which gives her more project management and productivity responsibility. Armed with her degree, she is confident and excited about this next big step. She was smiling on graduation day. "This program has a great reputation," she said. "I'm glad to be a part of it."