Overview
Course Content
Requirements & Materials
Overview
Large Scale Scrum (LeSS)
Course Description
The Certified ScrumMaster® (CSM) and Certified Scrum Product Owner® (CSPO) classes focus on a single Scrum team. But what if you have a large product with multiple teams all working on the same code base? How do you address the team coordination logistics and the larger organizational issues that naturally arise? This Large Scale Scrum (LeSS) course immerses learners in in-depth discussions of how to use the LeSS framework to address these issues. You will learn the essential information for adopting LeSS for your product development group, and examine a minimal set of additional roles, rules, artifacts, meetings, thinking tools, and practices that are designed to help you scale Scrum successfully. Certified ScrumMasters (or product owners) who successfully complete this course and the exam will have an additional qualification in Scaling Scrum added to their base Scrum Alliance certification.
Course Content
INTRODUCTION
PRINCIPLES
OVERVIEW
ORGANIZE BY CUSTOMER VALUE
PRODUCT
DEIFNITION OF DONE
PRODUCT OWNER AND PRODUCT BACKLOG
MANAGEMENT AND ORGANIZATION
SPRINT PLANNING, REVIEW, RETROSPECTIVE
INTEGRATION AND COORDINATION
ADOPTION
SCRUMMASTER
Session Details
There are no sessions scheduled at this time. Please check again later.
There are no sessions scheduled at this time. Please check again later.
Who Should Attend
This course is designed for anyone who is involved in a LeSS effort or multi-team Scrum, including IT professionals, mid- and senior IT leadership, technical writers, project managers, product managers, Subject Matter Experts and stakeholders, military and law enforcement strategists, university research center team members, consultants, ScrumMasters, and product owners.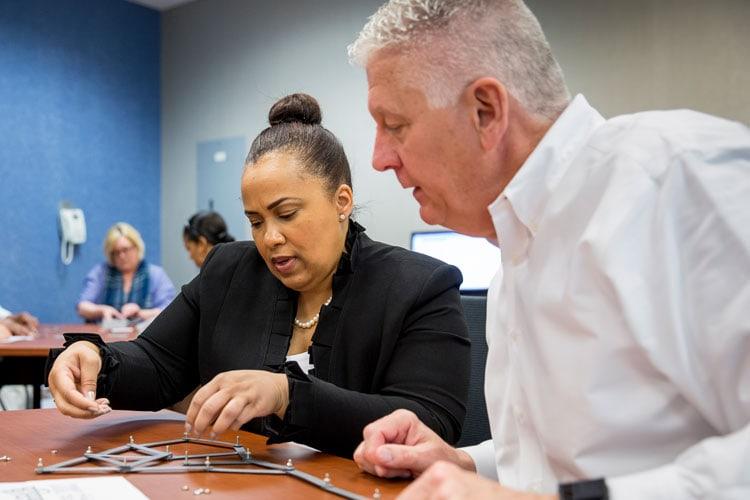 What You Will Learn
Scrum, LeSS, and LeSS Huge overview
LeSS rules, principles and adoption
Customer value and feature teams
The definition of done
The role of management
LeSS organizational structure
LeSS product backlog refinement, sprint planning, review, and retrospective
Integration and coordination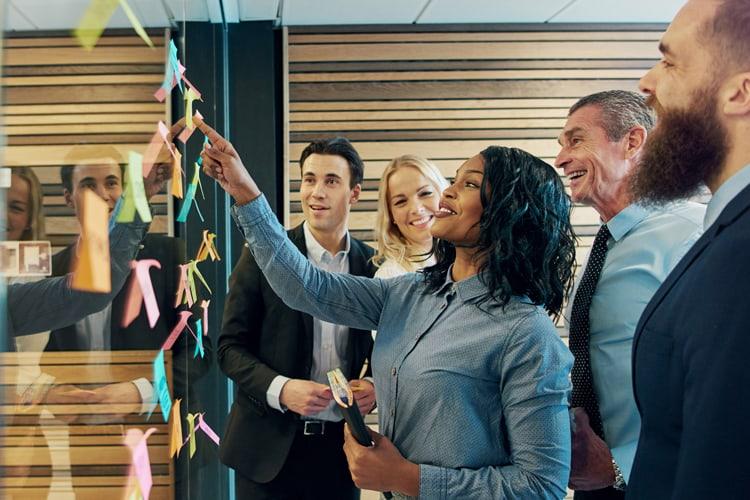 How You Will Benefit
Understand how to structure multiple team Scrum using LeSS.
Be able to list the LeSS rules.
Discuss LeSS principles.
Discuss the experiments and guides that help configure LeSS.
Participate in a workshop on LeSS adoption issues.
Describe the LeSS roles and how they interact.
Taught by Experts in the Field

Grow Your Professional Network
My team is empowered to take charge of their projects. And I can focus on the big picture.
- Chris Walker
Assistant Director of Marketing
TRAIN AT YOUR LOCATION
We enable employers to provide specialized, on-location training on their own timetables. Our world-renowned experts can create unique content that meets your employees' specific needs. We also have the ability to deliver courses via web conferencing or on-demand online videos. For 15 or more students, it is more cost-effective for us to come to you.
Save Money

Flexible Schedule

Group Training

Customize Content

On-Site Training

Earn a Certificate
Learn More