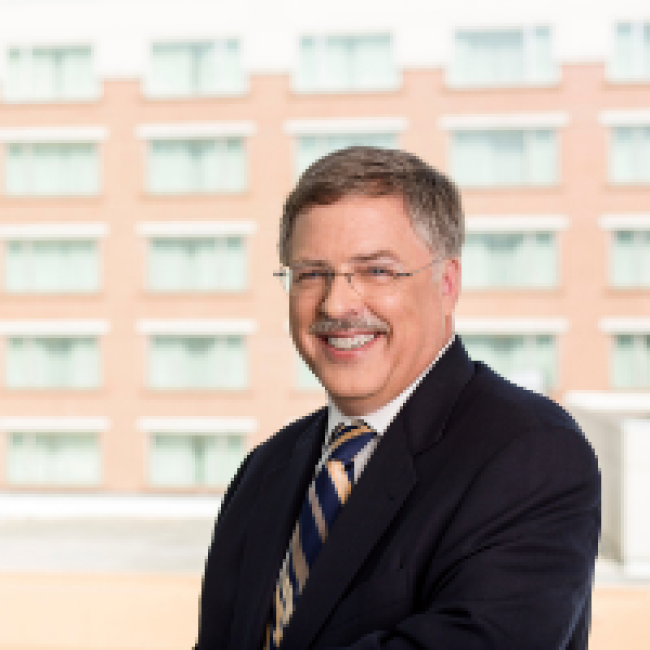 Nelson C. Baker, Ph.D.
Dean, Professional Education
Professor, School of Civil and Environmental Engineering
Biography
Nelson C. Baker, Ph.D., is the dean of Professional Education at the Georgia Institute of Technology and professor in the university's School of Civil and Environmental Engineering. As dean, Dr. Baker leads a multifaceted operation including the Global Learning Center, Georgia Tech-Savannah, the Language Institute, and Georgia Tech's extensive professional education programs in STEM- and business-related subjects. Dr. Baker also oversees educational outreach programs and serves as the interface between Georgia Tech's professional education activities and the industries, corporations, government agencies and professional societies that benefit from them. Under Dr. Baker's leadership, Georgia Tech Professional Education has steadily expanded, now serving more than 36,000 learners worldwide and 2,600 organizations each year. 
Dr. Baker's award-winning work on the impact of technology on engineering students' learning has generated projects such as multilingual web-based intelligent simulations for problem solving, among others. Leading Dr. Baker's list of honors is the W.M. Keck Foundation Award for Engineering Teaching Excellence. He has been named an ENR Educator for Construction's Next Generation as well as an NSF National Young Investigator. He is also the recipient of the Best Paper Award from the ASCE Journal of Computing. Within Georgia Tech, he has received the Outstanding Innovative Use of Education Technology Award and the W. Roane Beard Outstanding Teacher Award. 
Currently, Dr. Baker serves as the Secretary General of the International Association of Continuing Engineering Education (IACEE) and is also the President of the University Professional Continuing Education Association (UPCEA). He is the Past-Chair of the Georgia Board of Regents Administrative Committee on Public Service and Continuing Education, and he is an active member of ASEE and ASCE. 
Dr. Baker graduated from the Georgia Institute of Technology in 1980 with a B.C.E. in Civil Engineering. He earned his M.S. and Ph.D. degrees in Civil Engineering from Carnegie Mellon University in 1985 and 1989 respectively.
Research Interests
Intelligent learning environments for engineering
Applications of artificial intelligence and other computer-based techniques to solve engineering problems
Robotic applications to civil engineering
Education
Ph.D., Civil Engineering, Carnegie Mellon University, 1989
M.S., Civil Engineering, Carnegie Mellon University, 1985
B.C.E., Civil Engineering, Georgia Institute of Technology, 1980
Honors and Awards
National Science Foundation National Young Investigator, 1992-1998
Outstanding Innovative Use of Education Technology Award, Georgia Institute of Technology, 1997
Nominated for the American Society of Engineering Education George Westinghouse National Award, 1997
Recipient of ENR Educator for Construction's Next Generation, 1996
Department of the Navy, Instructional Recognition Letter, January 1996
W. Roane Beard Georgia Institute of Technology Outstanding Teacher Award, 1994
W.M. Keck Foundation Award for Engineering Teaching Excellence, 1994
Outstanding Faculty Member Award 1993 - 1994 as determined by the Georgia Tech Student Chapter of the American Society of Civil Engineers
Lilly Teaching Fellow, 1991 - 1992
ASCE Journal of Computing Best Paper, 1990
Outstanding Faculty Member Award 1989 - 1990 as determined by the Georgia Tech Student Chapter of the American Society of Civil Engineers