Always Improving: Philosophy as a Procurement Specialist
Roz Nero reflects on her experience with GTPE and how it has helped shape her career thus far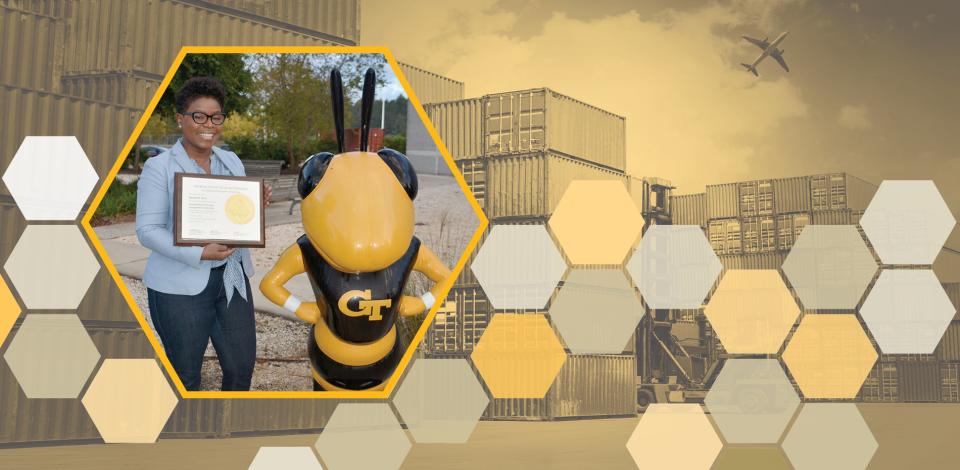 Procurement Specialist, Roz Nero, poses with her Georgia Tech Procurement and Supply Management Leadership Certificate.
Georgia Tech's Procurement and Supply Management Leadership Certificate is designed to prepare sourcing, planning, and procurement professionals to lead their companies in successfully navigating the complexities, risks, and rewards of the modern global sourcing environment. Project leaders, business unit leaders, operations managers, and sales leaders are all typical learners.
For Roz Nero, the program was a natural fit. Her career has ranged from software training consultancy, to procurement for a global indemnity products company, to analyst and procurement negotiator for a multinational building materials market leader. A Los Angeles native residing in Atlanta by way of Seattle, Nero has an appreciation for everyday learning and personal growth. Whether it's at her current job as a direct and indirect buyer at a digital security solutions firm or as the owner of her own consulting practice, Nero has a keen understanding of negotiation philosophies and personal negotiation styles. In this interview, Nero reflects on her experience with Georgia Tech Professional Education (GTPE) and how it has helped shape her career thus far.
Can you describe your experience in the Procurement and Supply Management Leadership Program?
To complete the program within my timeline, I attended classes at both the Savannah and Atlanta campuses. From day one, I especially appreciated the overall ease of applying for the program and the timely flow of information and coordination of class registration. That same level of professionalism held through to finalizing documentation and graduation. The level of organization allowed me to focus on my reason for attending. (Plus, the awesome staff!)
The right content was delivered in a professional environment and in an interactive, practical format by highly qualified instructors. The learner groups were diverse in all of their supply chain related roles, and came from various industries.
Why did you choose GTPE and Savannah in particular?
GTPE programs offered the specific in-depth subjects and skills I found necessary for real-time practical application. Savannah in particular offered the Supply Chain Project Management: Vendor Selection and Management course I needed to fully complete my certification.
What motivated you to take the program?
My purpose in taking the program was to enrich my existing knowledge, enhance my career, and gain a greater understanding of the role I'd been promoted to by my employer.
What did you find most valuable about the program? Why?
Networking and knowledge sharing with other supply chain professionals was a tremendous value. The exchanges during scenario exercises throughout the program presented the opportunity to gain insight from varying perspectives relative to approach, experiences, systems, and processes.
How have you used what you learned in the program in your current position?
Obtaining certification has yielded significant ROI for me through increased confidence with contracts, improved negotiation outcomes, and a better understanding of TCO-Total Cost of Ownership management. The skills I picked up have daily application with my employer and within my own consulting practice.
Professional development taken at GTPE provided me with the proper know-how to conduct strategic sourcing and implement procurement technologies, and allows me to deliver positive and consistent results.
What is your current position?
Buyer, Manufacturing-Direct & Indirect — I enable production and operations; evaluate spend, source suppliers; and approve purchases for a global organization that delivers digital security solutions and services.
Project Consultant, Owner — I help individuals and businesses attain growth through efficient project-based solutions. Services include surveys and questionnaires, RFx development, proposal evaluation, CRM database management, and LinkedIn profile optimization.
Where do you see yourself career-wise in the next five years?
Although I am really excited about where my career is right now, I would like to be seen as someone with a deeper expertise in proposal development and analysis, vendor management, and consulting. I would be really excited to take on more leadership responsibilities and projects.
To what extent do you think professional development will play a role in helping you meet your career goals?
Each of the forms of professional development I pursue through informal and formal learning, seminars, conferences, networking events, mentoring and volunteering play a pivotal role in helping me meet both my career and consulting practice goals. They provide an overall blend of awareness and understanding to meet objectives and deliver results.
In your opinion, what does it take to stay current and be competitive in your field?
With ever-changing technology and continuous enhancements within procurement and the supply chain arena, continued education and daily learning is essential in being competitive and staying current. That's why I plan to take many more professional development courses at GTPE.
How do you make time for professional education? What are your biggest challenges regarding time, and how do you overcome them?
As a first step, I pinpoint the skills I need to acquire or enhance. Then I develop a timeline, set goals, and actively work to clear my schedule while determining how program costs will be offset. This isn't easy. My biggest challenges are splitting time between employer obligations, my consulting practice, family obligations, social distractions, and securing funding.
Learning style can also be a challenge. My first preference when learning is face-to-face. However, online options suit my busy schedule, so a hybrid of the two works best for me.
If you want to succeed, you need to have a willingness to succeed. That includes a natural propensity for continued learning. You should always be asking how and why, and always working towards some mode of self-improvement.