Procurement and Supply Management Leadership Certificate
Overview
Program Requirements
Why Choose a Certificate?
Overview
Procurement and Supply Management Leadership Certificate
The Procurement and Supply Management Leadership Certificate is designed to prepare sourcing, planning, and procurement professionals to lead their companies in successfully navigating the complexities, risks, and rewards of the modern global sourcing environment. Emphasis is placed on topics such as negotiation skills, bid package development, supplier selection, and contracting excellence. You'll  not only develop critical skills required to identify, implement, and manage opportunities to reduce the total landed cost of materials, but also gain understanding of negotiation philosophies and personal negotiation styles while Streamlining executive communication to articulate milestone activities and gain leadership support.
Program Requirements
Program Requirements
Certificate Requirements
Certificates must be completed within 6 years; courses completed more than 6 years ago may not be applied toward certificate.
All courses applied to a certificate program must be taken from Georgia Tech.
This certificate does not require an application.
How it works
Your path to achievement is easy! Most certificate courses are offered in classroom locations around the U.S. You can also inquire about training at your location.
Cost
Course load determines the cost of a certificate program.
Calculate your total by identifying the courses needed and tallying individual course fees. Some programs offer discounts for course bundling.
Registration
Select a certificate program, review the requirements, and determine your timeline for completion.
Add courses to your shopping cart for purchase as you are ready to take them, or as a bundle if desired.
Proceed to checkout to complete your registration. We accept multiple forms of payment including credit card, purchase order, a private loan (upon request), and VA benefits for certain programs.
Completion
Certificates must be completed within six years.
After successful completion of most individual courses, a Certificate of Course Completion will be sent.
After successful completion of all required courses, request a transcript and program certificate audit.
Upon verification, GTPE will email your transcript and mail your Certificate of Program Completion. Some programs host a certificate award ceremony during the final course.
Once you earn your Georgia Tech Program Certificate, tout your success on your resume and LinkedIn profile, share with your employer, and celebrate an important career growth achievement!
Why Choose a Certificate?
Why Choose a Certificate?
Professional Certificates are ideal for developing new skills and building deep expertise in a specialized area to update your professional profile, advance your career, or broaden your knowledge base.
Certificates are an "anytime" credential
Start anytime - after graduation or later in your career - and gain deeper know-how in a specific area without the commitment to a degree.
Certificates demonstrate commitment
The dedication of time to earn a certificate demonstrates that you are committed to achieving a higher standard of professional knowledge in your industry.
Certificates provide immediate "ROE"
Georgia Tech learners master real-world skills and apply them to their career the day after completion.
Certificates stand out on your resume
A Georgia Tech credential carries the professional weight to give you a competitive edge.
Who Should Attend
This certificate is designed for supply chain and logistics professionals and managers across the entire supply chain (procurement, manufacturing, distribution, transportation, warehousing) who are interested in expanding their knowledgebase and committed to professional advancement. Project leaders, business unit leaders, operations managers, and sales leaders will also benefit from this certificate.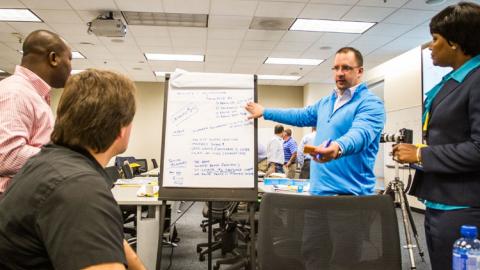 How You Will Benefit
Improve outcomes of negotiations.
Use personal negotiating styles to select the right negotiating team members.
Enhance executive communication skills to achieve leadership support.
Develop successful bid packages.
Produce more robust contract agreements.
Increase knowledge base in law of agency concepts to gain more confidence with contracting.
Reduce costs by developing a better understanding of total cost management.
Grow Your Professional Network

Taught by Experts in the Field
Course Offerings
Special Discounts: All residents of the State of Georgia are eligible for a 50% discount while funds last thanks to a grant from the U.S. Department of Commerce's Economic Development Administration. Use of this discount is subject to verification of GA residency. Enter coupon code SCL-GAAIM at checkout (cannot be combined with other discounts).

Non-Georgia residents can register and pay for all required courses in a Supply Chain & Logistics certificate and receive a discount of 17% off per course. Enter coupon code SCL-Cert at checkout. Review coupon instructions for more information.

If you have 3 or more participants from your organization, please contact us for volume discounts at course@scl.gatech.edu.
Category Management and Sourcing Leadership is designed to deepen your knowledge base of core activities in the procurement and supply management function. The program covers the sourcing process, specifications gathering, common bid package alternatives, cross-functional collaboration, and…
View Course Details »
Upcoming Sessions
Feb 26, 2024 - Feb 29, 2024
Contracting and Legal Oversight provides you with a holistic and integrated understanding of contract law, contract types, key industry standard contract terms, and contract structure to improve your confidence when creating or modifying contract documents. The program is geared to reinforce…
View Course Details »
Upcoming Sessions
Feb 29, 2024 - Mar 6, 2024
Essentials of Negotiations and Stakeholder Influence level-sets your understanding of negotiation influence and strengthens preparation, planning, and execution activities involved with both simple and complex negotiations. The program includes industry techniques and tools for traditional…
View Course Details »
Upcoming Sessions
Mar 7, 2024 - Mar 14, 2024
The following courses are no longer offered but may still be applied if completed within the six-year rule:
Measuring and Managing Performance in Supply Chain and Logistics Operations (LOG 3112P)
Related Certificates