Supply Chain Management Certificate
Overview
Why Choose a Certificate?
Overview
Supply Chain Management Certificate
Build your expertise across the various domains of supply chains as well as delve deeper into specific areas of interest. Our Supply Chain Management Certificate is designed to allow you to both widen your skill set while gaining mastery over a more specific area of your choosing.
Why Choose a Certificate?
Why Choose a Certificate?
Professional Certificates are ideal for developing new skills and building deep expertise in a specialized area to update your professional profile, advance your career, or broaden your knowledge base.
Certificates are an "anytime" credential
Start anytime - after graduation or later in your career - and gain deeper know-how in a specific area without the commitment to a degree.
Certificates demonstrate commitment
The dedication of time to earn a certificate demonstrates that you are committed to achieving a higher standard of professional knowledge in your industry.
Certificates provide immediate "ROE"
Georgia Tech learners master real-world skills and apply them to their career the day after completion.
Certificates stand out on your resume
A Georgia Tech credential carries the professional weight to give you a competitive edge.
Who Should Attend
This certificate is designed for a variety of people involved with supply chains and logistics including executives, managers, engineers, analysts, consultants, planners, manufacturing, industrial, and process engineers, as well as managers of purchasing, operations, production, warehouses, and team leaders.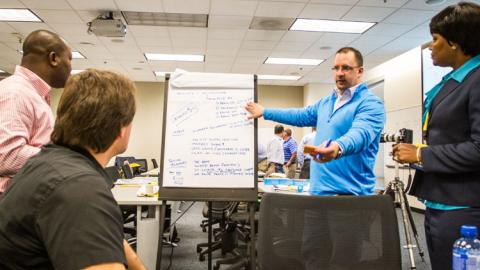 How You Will Benefit
Enhance your abilities to develop strategies for inventory, transportation, and distribution.
Understand how to balance inventory costs and transportation for the most efficient and profitable arrangement.
Have your company's key performance indicators (KPIs) evaluated.
Discover how to design and use a supply chain and logistics services performance dashboard to improve your operations.
Explore packaging design and how primary packaging issues are amplified throughout the supply chain.
Grow Your Professional Network

Taught by Experts in the Field
Course Offerings
Your choices from Requirements A and B must meet a minimum of four courses and 5.2 CEUs to earn the certificate. Any LOG courses can be used with the exception of LOG 3500P,  LOG 3501P,  LOG 3502P, LOG 3503P,  LOG 3504P, LOG 3506P, or LOG 3507P. Click here to see a list of current course CEUs.
The following courses are no longer offered but may still be applied if completed within the six-year rule:
Material Handling 101: Fundamentals, Analysis, and Selection (MODEX) (LOG 3082P)
Strategic Planning of Supply Chain Facilities (LOG 3093)
Inventory Planning and Management (3 Day) (LOG 3110R)
Measuring and Managing Performance in Supply Chain and Logistics Operations (LOG 3112P)
Supply Chain Network Design Fundamentals (LOG 3142P)
Introduction to Plan for Every Part (PFEP) and Inventory Sizing (LOG 3600P)
Plan for Every Part (PFEP) and Inventory Layout (LOG 3601P)
Lean Essentials for the Supply Chain Professional (LOG 4000P)
Lean Implementation for the Supply Chain Professional (LOG 4001P)
Optimizing Packaging's Impact in the Supply Chain (4005P)
Cold Chain Management (LOG 4502)
Defining and Implementing Effective Sourcing Strategies (LOG 4510)
Leveraging Supply Chain Management Tools and Techniques to Improve Performance (LOG 4512P)
Effectively Managing Global Supply and Risk in an Increasingly Complex World (LOG 4511)
Related Certificates