Partnering for Success
Georgia Tech-Savannah helps organizations create leadership academies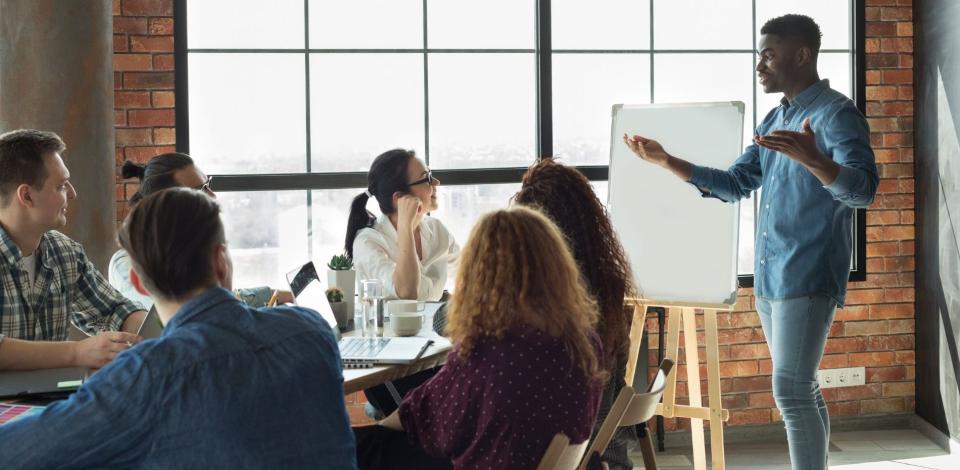 Training, reskilling, and equipping management for the future are all hot topics for organizations today. Just as it is important for individual managers to equip themselves with the skills to grow in their careers and communicate well throughout their organization, it is important for organizations to identify emerging leaders. Building the skills and capabilities of employees and improving internal practices for seamless company operations leads to healthy growth and success.
The need for skill building has always been there, but it is now more important than ever as the world economy emerges and begins to shift out of the COVID-19 pandemic. Today, it is essential for employers to develop the skills of their employees in the ever-changing business world; and in a recent survey by McKinsey Global on reskilling, respondents said that "skill building (more than hiring, contracting, or redeploying employees) is the best way to close those gaps and that they have doubled down on their efforts to reskill or upskill employees since the pandemic began." Leadership, adaptability, and empathy have been shown as the most important skills to hone and develop, according to the survey results.
"The work environment has changed, and globalization has continued to change. We are now connected throughout the world, and professionals require the skills to adapt. We don't only provide training on technology or leadership, but also on how to interact with the rest of the world," said Dr. Ned Ellington, leadership instructor with Georgia Tech Professional Education. "We equip leaders with tools and technologies in a real-world sense. The bridging of our professional leadership education is what I believe differentiates our programs and courses."
That is why organizations like the award-winning HMTX Industries, a global luxury vinyl tile manufacturer, and the City of Savannah are looking to Georgia Tech-Savannah for professional leadership training to form Leadership Academies of their own. Attracting and retaining talent are essential for success and the trend towards creating leadership academies is likely to increase. The positive results these organizations have experienced prove the worth of investment in these academies.
Halstead, a division of HMTX, was experiencing significant growth and hiring new team members, which resulted in the need for better training for recruitment, retention, improvement of internal morale, and bridging the gap between entry-/mid-level team members and their managers to create a supportive and professional environment. Halstead recognized the importance of continued training and the utilization of professional education to not only improve internal operations, but to provide exceptional customer service to their clients which would result in even more business growth. "When you're working seamlessly internally, it shows through in every facet of a company's operations and builds stellar reputations. Clients and customers notice a company with outstanding employees, and they want to do business with a company like that," said Brian Greene, Chief Supply Chain Officer at HMTX Industries. "I'm always happy to work with the Georgia Tech-Savannah Professional Education team. They're on top of things, helpful, pleasant, and professional. Their training is helping HMTX in our quest to build a solid future, and I'd recommend their services to anyone who's looking for a great way to take their company to the next level."  
The professional leadership training offered by Georgia Tech-Savannah generates high-value returns and practical results for organizations while preparing leaders for today's ever-changing business environments. Within leadership academies, employees gain a broader understanding of core business operations while enhancing their critical communication leadership skills to navigate business environments driven by innovation and global markets. Courses are segmented into focused areas of learning such as leading from within, leading others, and leading organizations. Some of the topics include working with a multigenerational workforce, leading change, and maximizing innovation and improvement.
These topics were especially of interest to the City of Savannah as they were aiming to create their own leadership academy to invest in their current and future leaders, adapt to the diverse workforce, and become a haven for learning. "We have more generations in the world of work today than we've ever had in the history of work; so, our leaders need to be prepared for and comfortable in supervising, leading, managing, and building up and investing in diverse leaders and team members from different generations and backgrounds," said Dr. Jennifer Blalock, manager of Learning & Organizational Development for the City of Savannah.
Due to the opportunity that Georgia Tech provides right in Savannah to have access to world-class, specialized training, the City of Savannah decided to partner with the professional leadership education team to develop and customize their desired curriculum. Georgia Tech-Savannah guided the City to ensure the course reflected their values and mission in theory and application.
"We sat down with the Georgia Tech Professional Education team and talked about the four components that were important to us – the foundation of leadership, performance management, coaching, and emotional intelligence. Those are the four components of being a leader. As we sat down with the team, I really felt like they helped us execute our vision, sharpen our objectives, and deliver an effective program. We are fortunate to have Georgia Tech professional education in Savannah. To have that type of partnership helps us, as an organization, not only advance in the present, but also in the future," stated Jeff Grant, City of Savannah Human Resources Director.
Georgia Tech-Savannah's focus in professional leadership training is to not only provide theoretical and practical knowledge so trainees understand the conceptual framework, but also how to apply it in the real world. One way this was implemented within the City of Savannah's Leadership Academy was with coaching role play. Participants were able to observe others in a coaching role play and identify what behaviors, characteristics, and techniques were effective, and which were not.  
Jennifer Blalock comments on this form of training within the program, "What Georgia Tech-Savannah does, and does really well, is take research and then convert it into transferrable skills and executable actions. That was important to us because anyone can read a leadership book, but they help us take those principles and activate them in our everyday practice – transitioning an everyday operational manager, who might be good at their skillsets and their competencies, to someone who knows how to motivate others, conduct evaluation and analysis, plan strategically, and communicate on an inclusive level with diverse populations."
For organizations or individuals seeking to invest in professional leadership training, but not wanting to start a leadership academy of their own, they can participate in Georgia Tech-Savannah's Professional Leadership certificate. Focused on assisting emerging leaders to accelerate their careers by differentiating their leadership skills, the certificate generates high value returns and practical results for organizations while preparing leaders for today's ever-changing business environments. Participants gain a broader understanding of core business operations while enhancing critical leadership skills to navigate business environments driven by innovation and global markets. 
It is vital to provide professional training to those working individuals in the coastal region with leadership skills that can move their career trajectory upward and allow them to add greater value and communication within their organization. The need for building workforce skills, especially within leadership roles, is in growing demand and that's why Georgia Tech Savannah's Professional Education partners with organizations to build Leadership Academies, to ensure success, now and for the future.
"Curating a Leadership Academy within an organization is not only a one-time investment but is an investment that pays off for years to come. Organizations that have strong leadership create a competitive advantage as well-versed leaders create and train more leaders. It is a ripple effect that allows for meaningful engagement in attracting and retaining staff," said Theresa Atkins, Director of Industry Strategic Partnerships at the Georgia Tech-Savannah campus. "There are far more incentives than just salary, and investing in an employee's training, education, and development is crucial to their satisfaction, experience, and work performance. Partnering with Georgia Tech-Savannah allows you to keep up in the ever-competitive market and address knowledge and skills gaps specific to your organization or industry."
For more information on Georgia Tech's Professional Leadership corporate training opportunities, please visit pe.gatech.edu/corporate-education or contact Dr. James Wilburn at james.wilburn@pe.gatech.edu.