The Key to a Successful Late Career Transition
Cybersecurity boot camp graduate lands a top-level job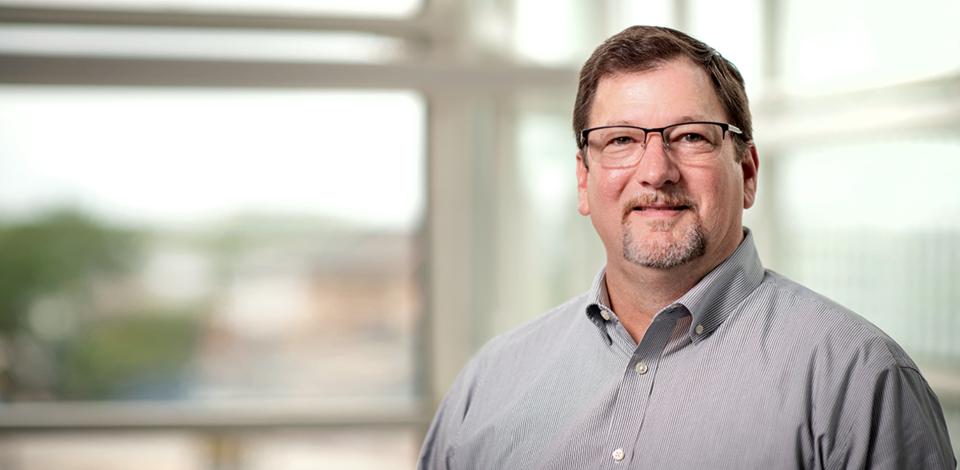 Changing jobs or careers, at any age, is a big decision. An open mind and a hunger to learn helped cybersecurity boot camp graduate, Eddie Radford, reskill for a midlife career change.
Change. The word alone can trigger anxiety. When life as we know it takes a turn, it's easy to feel intimidated; the familiar, after all, is comfortable.
But change prevents stagnation. It injects energy into routine and propels us forward into unexplored terrain, presenting opportunities that would remain beyond reach if we didn't take action and move ahead.
Eddie Radford knows all about forward action and evolving opportunity. With a career that delved into IT before "IT" was even a term, Radford has worked in a field that changes at a rate faster than perhaps any other. How to keep up? Stay open to possibility and never stop learning.
For Radford, adapting to change started early. He was pursuing a master's degree in geophysical sciences at Georgia Tech, focusing on oil exploration and seismology, when the oil exploration market collapsed in the late '80s.
Rather than hold on to oil business plans, he quickly adjusted. While in the university placement office, he saw a National Oceanic and Atmospheric Administration (NOAA) brochure and found out that interviews were the next day. He was recruited on the spot. "I took my geophysical sciences degree, put on a uniform, and went through basic officer training."
He soon found himself driving ships and conducting deep ocean research as a diver, work that included installation of tsunami warning systems 100 feet down in hammerhead breeding ground off the Galapagos. He participated in the first survey using Differential GPS and was involved in the recovery effort following the TWA 800 plane crash. Alongside that, he managed research lab computer systems.
When he resigned from his commission, Radford used his computer system skills to enter the IT industry. He found his niche on the sales side of the business.
He was solidly entrenched in his career when he noticed a shift in the technology services market and felt he needed to do something in order to keep pace. The world was changing, and he had to adjust.
"I'm a late career person," Radford explained.
I've been in the business for 25-plus years and have had at least one long-term stint — I spent 11 years with one company. What happens, if you're not paying attention, is your skill set gets stale, or it may become relevant to that one company. And I did that — my skill set was very particular to one company.
"Also, the business, because of changes in the economy, was becoming very commoditized," he continued. "And the technology changed very rapidly -- more rapidly than the companies I worked for changed -- so my skill set became less relevant."
Georgia Tech was the natural place to go to update his knowledge. Not only is Radford an alumnus, but his father and two of his children are as well, while his two youngest are current students.
His return to campus started with a Lean Six Sigma course, followed by the Certified ScrumMaster® (CSM) and a Project Management Certificate. "I had done project management, but was never formally trained, so I knew about half the process. By going through the Georgia Tech program, I learned the entire process, from start to finish."
"When you're working in a particular role, you get some exposure," he continued, "but when you go through a structured training like this, you get the big picture. You get more of a business sense. It fills in a lot of gaps."
In April, Radford completed his fourth GTPE program, the Cyber and Network Security Boot Camp. The course is an intensive 24-week program that teaches the most in-demand technologies related to keeping data secure.
Midway through the class, Radford landed a new job. "The boot camp was a key ingredient to the opportunity," he said. "It accelerated the hiring process, and the cybersecurity skills had an impact on the level of position and the level of compensation. Just my services experience probably wouldn't have been enough."
Late career transitions can be challenging, and utilizing GTPE in my journey made a real difference for me. Participating in these classes transformed my competitiveness in the job market and made my skill set more relevant to employers.
Yet while he speaks about embracing change in terms of professional necessity, his love of learning for its own sake continually shines through.
"I got my job midstream. I could have stopped then. That tells you how much I liked it," Radford said, with a smile in his voice. "Onboarding is very time consuming. But the program is important to finish. There was a lot of good material left, and the certificate from Georgia Tech was something I wanted to have." It will soon join the others he proudly displays on a wall in his office. "I hang my GTPE certificates right next to my diploma."
Radford's not done yet. "They've added so much to the curriculum that I'd love to take a few more of the programs," he said, laughing. Looking into the future, he's ready to keep learning.
Written by Laurel-Ann Dooley