Using Scale to Expand Access
The Affordable Degrees-at-Scale Symposium continues to drive the conversation on education innovation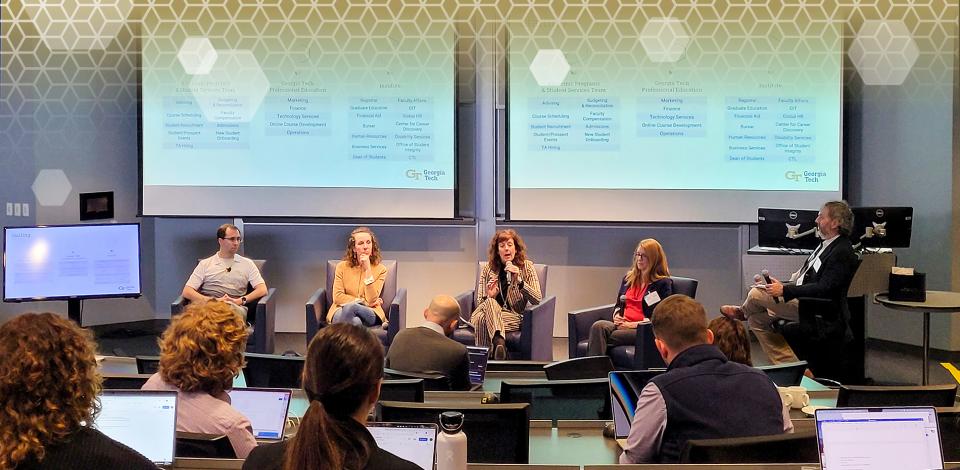 Since 2017, Georgia Tech Professional Education's (GTPE) Affordable Degrees-at-Scale (ADSS) Symposium has been the preeminent event for higher education leaders to engage in intensive conversations on the strategies to create, grow, and sustain at-scale, online degree programs. "Through scaled delivery, quality education can be accessible at an affordable price to thousands more learners than would be through a traditional delivery method," says Nelson Baker, interim inaugural dean of the Division of Lifetime Learning at Georgia Tech.  
The 2023 event kicks off on December 4th and features three days of speakers, panels, and discussions with opportunities for both virtual and in-person attendance.  
Since its inception, the Affordable Degrees-at-Scale Symposium has served as a platform to address the most pressing topics by bringing together educational thought leaders to explore, collaborate, and innovate. "This bespoke event is tailored to the specific needs of institutions currently providing or interested in providing scaled online degree programs," says Warren Goetzel, organizing committee co-chair and director of academic technology and engagement at Georgia Tech.
"It brings together a tight-knit community of educators and technologists from across the higher education landscape who are interested in the capabilities of technology to deliver quality education." 
This year, for the first time, the symposium's program was developed following a call for proposals from the at-scale community. Areas of focus for this year's sessions will include innovations in scaled programs, artificial intelligence, micro-credentials, media & production, creating community, using data to align with market demand, and diversity, equity, inclusion and accessibility (DEI&A).   
The keynote speaker will be Gregory W. Fowler, PhD, president of University of Maryland Global Campus (UMGC), the largest provider of postsecondary education in Maryland. Previously, he served on the leadership teams that built two of America's largest universities— Southern New Hampshire University and Western Governors University—both of which serve nontraditional students in nontraditional ways. 
With the proliferation of generative AI, it was no surprise to see demand for related content. "New technology, or the rapid advancement of technology can be a disruptor," says David Joyner, organizing committee co-chair and executive director of online education at Georgia Tech's College of Computing.
"The Affordable Degrees-at-Scale Symposium enables the community to coalesce around the best practices and collective standards needed to harness its power while also managing its challenges." 
In-person attendees will also have the opportunity to spend an afternoon dedicated to exploring the challenges and opportunities presented by Artificial Intelligence. From academic integrity to bias, and data security to student engagement, the information-packed afternoon will explore A.I. from every angle and counter the tough questions with actionable takeaways and include a featured presentation from Senior UPCEA Fellow and Professor Emeritus, Ray Schroeder.  
Registration is open for this year's event, which is taking place on December 4-6 in person at the Georgia Tech Global Learning Center in Midtown Atlanta or online, as we delve into strategies for navigating at-scale education in the U.S. and around the globe. Pricing ranges from $100 for virtual entry to $500 for in-person attendance. An in-person registration discount is available for Georgia Tech employees. Secure your spot by registering today!