Women in Construction: The Value of Mentorship
How two female health and safety professionals used mentorship to hone their skills and abilities in a male-dominated profession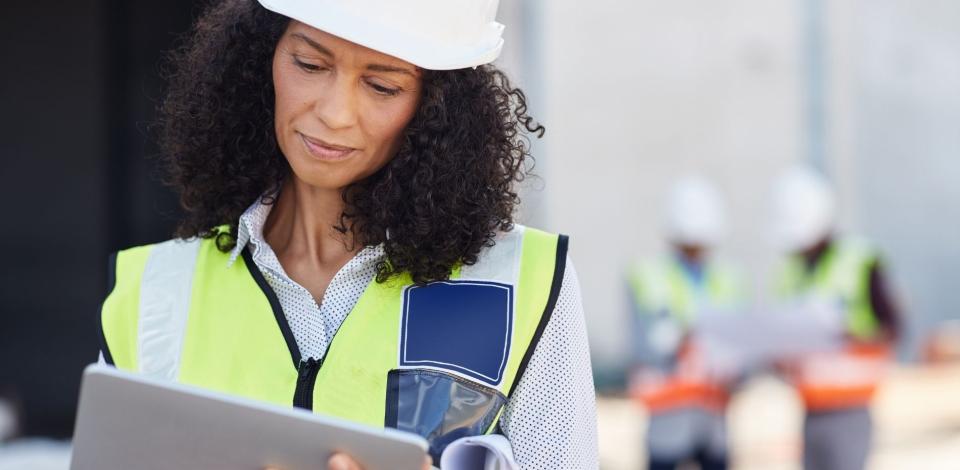 The Occupational Safety and Health (OSH) field, like many STEM-based fields, is an energy-intensive industry that requires quick decision-making, continuous problem-solving, and tireless people-pleasing. Without regular intellectual and emotional support from colleagues and coworkers, it's easy to lose focus and purpose.
For women, who comprise a minority of those in the industry, mutual support for one another is all the more important — and challenging — to find. When Julie Brown, safety manager for Choate Construction in Atlanta, met Pam Fisher, course director for the OSHA Training Institute Education Center and adjunct faculty member for Georgia Tech Research Institute (GTRI), on a construction project nearly six years ago, she immediately noticed and admired Pam's confidence and assertiveness — qualities she knew were essential for women to thrive in such a competitive industry.
"I remember thinking to myself, 'This lady is a firecracker,'" recalled Julie. "She doesn't give these guys any slack. I want to be like that."
Julie, having worked in medicine for 25 years prior, had transitioned into the safety and health field. While she was equipped with a unique set of skills and knowledge about safety practices, this new project was dense and difficult, with many barriers and moving parts. It was also one of the first project sites where there was a female safety professional.
"At the time, Pam was one of the only ones on site regularly who was female, and she had such a presence," said Julie. "She took command, and she didn't give them any slack. And that's sometimes what you have to do."
Pam also had experience as a registered nurse, but she had spent much more time in the safety field. Over time, she had learned how to navigate the industry, but she explained that the "confidence" needed for success often is more about appearance than what you are feeling.
"People tell me, you always come across so strong and confident," she described. "But I never think that I am."
Both Pam and Julie have learned that your outward appearance is directly related to your survival in the industry — fear, timidness, and deference won't get you very far. That's why it's important to find a support system of friends, especially females, to rely on for advice and encouragement.
Ever since their first meeting, Pam and Julie have become good friends, and their mentorship has supported both of them in different ways. Julie has relied on Pam for advice about the industry and how to navigate it as a female, while Pam has been inspired by Julie's enthusiasm and the way that she and other women like her have continued to push beyond their limits. 
Julie credits these achievements in a large part to Pam, saying that she and other women like her would not have the ability to keep pushing forward were it not for the way that Pam and other female mentors have pioneered before them. "If we didn't have the base knowledge coming from mentors like Pam, we wouldn't be able to go as far as we have gone," Julie said.
Even though they don't work on the same project site anymore, Pam and Julie still find time to connect with each other to offer support and guidance. Due to their busy work schedules, they don't have a regular meeting time; however, they both feel that they can call each other at any time. "I have never doubted that I could call Pam at any point with a question, and she can do the same with me," Julie said.
Additionally, Pam emphasized the value of participating in formal or informal professional support groups. Committing to a group with a regularly scheduled meeting time keeps you accountable to balance working with learning. Pam referenced Georgia Tech Professional Education as an excellent resource for such learning accountability. Through its professional education programs, Georgia Tech provides a valuable community with opportunities for networking and mentoring. "One important reason for folks to come to Georgia Tech is not just to get training," Pam explained, "but also for the networking and the mentoring relationship."
Julie experienced this community firsthand when she participated in and completed the Construction Safety and Health certificate program at GTPE in 2021. She was motivated to enroll in the program because she had discovered her passion for occupational safety and health and wanted to continue developing her knowledge and skills.
Julie loved her learning experience at GTPE and appreciated its affordability and practicality. The short-term courses were manageable and consistent, and the instructors helped her understand new perspectives and aspects of the industry that she had never considered before. Now, Julie is even more enthusiastic about continuing her professional learning journey. "I want to be a lifetime learner," she said.
When Pam began her career in the safety and health industry, there were no other women there with her. Now, even though more women have entered the field, it's still easy to feel alone and unsupported. There are still barriers for women in occupational safety, and they need to stick together to build each other up and push each other forward. "We need each other, and we need support," Pam said.
Mentorships like Julie's and Pam's are vital for women to help each other thrive in the workplace. "A mentor to me is someone who has not only the knowledge but the wisdom to guide you," Julie said. "They give you strong reassurance and confidence in the decisions you've made."
At Georgia Tech Professional Education, we believe progress in gender parity is achievable but will require a willingness to embrace the power of inclusion. We also believe that collectively, we can help create an inclusive world. Click here to read more career highlights, advice, and stories from the GTPE women shaking up the STEM industry.
Credits
Writer: Rachel Meyer
Editor: Shannon Helton-Amos
Digital Producer: Kelsey Harris