Post-Pandemic Workplaces: Take Control of Your Career
How to envision a professional growth journey with intent and purpose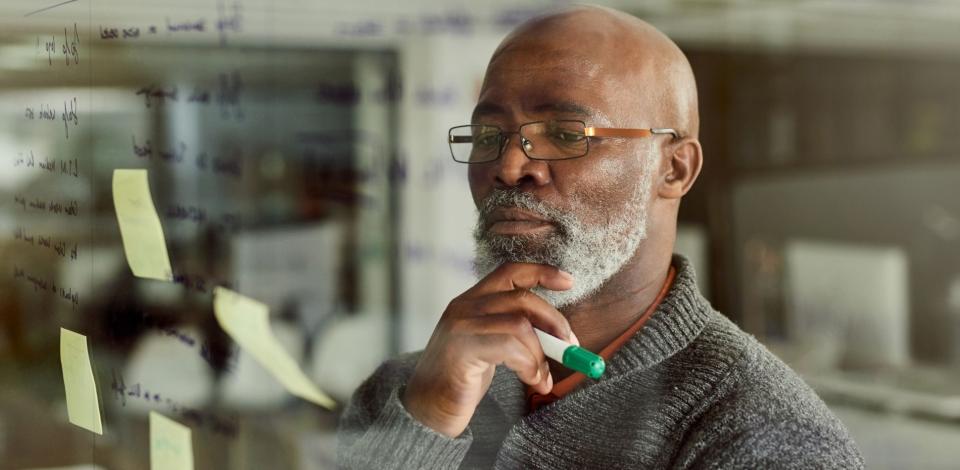 When the Covid-19 pandemic struck in the spring of 2020, entire industries and labor markets saw disruption seemingly overnight. From furloughs to job losses and the transition to remote work, the pandemic rapidly changed the trajectory of the workforce.
For working professionals, this unprecedented disruption and uncertainty required adjustment, but also presented an opportunity to gain clarity around their personal and professional goals. And for many, the pandemic presented an opportunity to change course in their careers.
If you have been reassessing your own priorities over the last few years, you're not alone. According to a recent Washington Post-Schar School poll, nearly 1 in 5 U.S. workers are considering a professional shift, regardless of income level, industry, or occupation.
While the full impact of this "Great Reassessment" remains to be seen, the pandemic has certainly opened the door to job or career pivots, profoundly affecting how we think about our work. Whether you're thinking about changing directions, expanding your network, or getting serious about your education, here are three steps to consider as part of your current (or next) career.
Take advantage of experiential learning
As the workforce becomes more transient, a career design rooted in a strong foundation is necessary to ensure stability and sustainable success.
From understanding personal motivations to building competency in your technical capabilities and fine-tuning your human skills, these foundational attributes help drive behaviors and habits, ensuring you have the tools to manage your career path effectively.
These skills and experiences that you encounter directly within the workplace are crucial for career building, proving to be effective for increasing career satisfaction and confidence over the long-term while also increasing earning power.
"Most of our learning in the traditional sense takes place in environments such as classrooms and study halls, or our couches and living rooms, but that doesn't necessarily resemble the environment in which the skills will be applied," noted Yakut Gazi, associate dean for Learning Systems.
"Experiential learning allows you to learn in authentic environments while engaging with others, reflecting on these experiences, and possibly learning from mistakes."
Taking the form of stretch assignments, job rotations, or collaborative projects, experiential learning opportunities embrace agile growth, allowing for the active pursuit of new competencies and developing skills such as collaboration, communication, critical thinking, and empathy – all critical for filling workplace needs than even the most sophisticated robot cannot.
To start, Gazi recommends taking a moment of self-reflection to gain clarity on your long-term goals. Then, seek opportunities to learn, observe, and execute a new skill. For example, you may decide to take a course on data analytics and later participate in a project run by a skilled analyst, followed by an opportunity to examine one or more data sets yourself, showcasing mastery in that focus area.
"If you are looking for growth in your career, examine the skills and competencies needed for that next level of responsibility and try to calibrate your behaviors against those expectations," she said. "Then, reflect on what you learned and how you can improve. This feedback helps you grow and learn more effectively while preparing you for inevitable shifts in the workplace."
Foster interpersonal relationships
Now more than ever, the workplace feels the need for connectivity, and whom we surround ourselves with is an indicator of individual development and career direction.
"When thinking about how to develop in our careers, most of us tend to focus on experience, knowledge, and credentials, often overlooking one key piece of the career design: your professional relationships," noted LaTrese Ferguson, director of Workplace Learning & Professional Development.
Whether it's a manager who coaches you through leadership skills or a personal board of directors that provides accountability, these interpersonal relationships enable you to learn from a diverse collection of colleagues, boosting guidance and decision-making.
"One of the best things you can do, at any stage of your career, is to build relationships with individuals who can help you grow into the best version of yourself. And these career advocates can be beneficial even if they're not in a senior position or on the same career path."
While fostering these relationships can be difficult in remote and hybrid environments, consider how you can intentionally expand your internal network, either by reaching out to colleagues outside your team or participating in cross-functional collaboration projects.
And know that not all relationship-building has to happen within a traditional workplace setting. Virtual networking sites, conferences, and professional associations can also be great resources for making or strengthening connections.
Julie Brown, for example, was able to form informal relationships with other female colleagues on various construction sites, helping her build confidence on the job and develop her skills in a career she loved.
"I wish I would have found safety and health 25 years ago, but I think when you get a passion about something you want to pursue, you go for it," she said. "It also helps to have someone who gives you strong reassurance and confidence in the decisions you've made."
Identify opportunities for growth and development
Even before the pandemic, changing technologies and new ways of working were disrupting jobs and the skills employees needed to do them, making reskilling and upskilling a reliable way to increase future employability while facilitating the development of professional career goals.
But how do you know when it's time for additional training and education? Chris Carter, director of the project management program at Georgia Tech, recommends taking an honest assessment of where you are in your career and what you'll need to be able to move forward.
"Take inventory of the skills, values, and interests you've acquired through career experience and exposure. These are the building blocks to determine what types of professional development are the right fit. It should be intentional and by design."
From alternative credentials to individual short courses and industry-specific certificates, professional education can help complement prior education and experience while closely aligning with career goals.
After transitioning into a project management-focused role with Toyota North America, Carter had a mid-career realization that he had built a strong foundation but lacked the formal education. So, he decided it was time to earn his project management certification. His new knowledge added an additional layer to his career, allowing him to become the local subject matter expert and propelling him into a senior leadership role.
"I had the regional and global exposure in leading projects but knew I needed to learn more about the industry," Carter recalled. "I was able to use additional training as part of my career design and make more of an impact on my organization and team. After I got my project management certification, I sat for the PMP, and my career took off."
Readiness to Change
A career today is characterized by change, uncertainty, and ambiguity, largely due to the significant shift in the workplace over the past decade – and since the onset of the pandemic.
"The collective experience of the past two years has left a lasting imprint on the workforce," noted Nelson Baker, dean of Professional Education. "As such, professionals will need to be more purposeful in their career planning, intentionally building networks and looking at opportunities for continued growth."
And the latest numbers from the U.S. Bureau of Labor Statistics further emphasize this career evolution, with the average employee spending around four years in a job.
"It's clear that the time is right to rethink what a successful career design looks like, but it's not a one-size-fits-all model," says Baker. "Modern career development is complex, driven by the unique experiences, exposures, and educational opportunities set forth by the professional. Navigation will require clarity, and a little bit of curiosity, so that you take ownership of your career throughout your lifetime."
Credits
Writer: Kelsey Harris
Digital Producer: Kelsey Harris