Chemical, Biological and Explosive Detection: Overview of Point and Standoff Sensing Technologies
Overview
Course Content
Requirements & Materials
COURSE ID: DEF 8100P
Special Notice
Overview
Chemical, Biological and Explosive Detection: Overview of Point and Standoff Sensing Technologies
Course Description
While the content of this class may be explosive, you'll gain a very calm, methodical approach to chemical, biological, and explosive (CBE) detection to take into the field. Learn about CBE identification techniques that are commonly utilized for military and civil applications. You will also review chemical, explosive, and biological agents, features, and phenomenology that may be interrogated by detection systems. Plus, no CBE course would be complete without learning advanced algorithms.
Course Content
INDUCTION AND DEFINITIONS
Overview of chemical agent
Overview of biological agents
CHEMICAL POINT DETECTION
Mass spectrometry
Ion mobility spectrometry
Differential mobility spectrometry
Surface acoustic waves
Micro-cantilevers
Fiber optics probes
CHEMICAL STANDOFF DETECTION
Differential absorption light detection and ranging (LIDAR)
Fourier transform infrared spectroscopy
Hyperspectral imaging
Raman spectroscopy
Laser-induced breakdown spectroscopy
BIOLOGICAL POINT DETECTION
Fiber optic probes (antibodies)
Laser-induced fluorescence
Immunoassay
Polymerase chain reaction
BIOLOGICAL STANDOFF DETECTION
Elastic backscatter LIDAR
Laser-induced fluorescence (standoff mode)
Joint biological standoff detection system
DETECTION ALGORITHMS
Physical models
Basic review of concepts
Feature-based inference techniques
Cognitive-based models
SENSOR AND DATA FUSION
Sensors
Data fusion architectures
Bayesian inference
HYPERSPECTRAL IMAGING ALGORITHMS
Classification techniques
Band selection
Sub-pixel processing
Principal components analysis
Requirements & Materials
Important Information
This course requires completion of an access eligibility form. Please make sure you read the Course Restrictions section below before registering for this course. 
Course Restrictions
This course is restricted to US citizens who are industrial and/or government employees and complete the Access Eligibility Form. Eligibility questions should be directed to 404-407-6661. Attendees must fax the Access Eligibility Form to 404-407-8691 or RShelp@gtri.gatech.edu. 
Session Details
Special Discounts: Georgia Tech Research Institute (GTRI) employees are eligible to receive a discount. If you are a GTRI employee, please go to the Organizational Development website and look for the coupon code under GT Professional Development. Review coupon instructions for more information.
There are no sessions scheduled at this time. Please check again later.
There are no sessions scheduled at this time. Please check again later.
Who Should Attend
This class is designed for engineers, scientists, and technicians who want to learn chemical, biological, and explosive detection.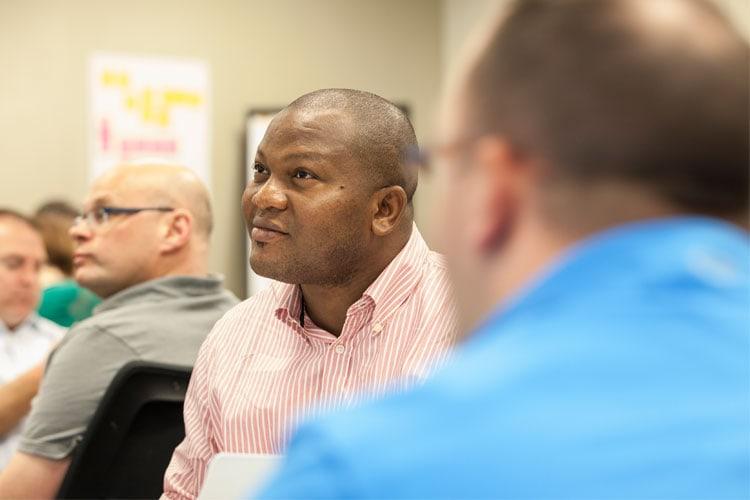 What You Will Learn
Chemical and biological agents
Chemical point detection and chemical standoff detection
Biological point detection technologies and systems
Biological standoff detection technologies and systems
Chemical and biological detection and identification algorithms
How You Will Benefit
Learn about remote and sampled detection, discrimination, and identification techniques with design parameters and performance models.
Gain an understanding of a sampling of specific technology applications for chemical point, chemical standoff, explosives point, explosives standoff, biological point, and biological standoff sensing.
Taught by Experts in the Field

Grow Your Professional Network
The course schedule was well-structured with a mix of lectures, class discussions, and hands-on exercises led by knowledgeable and engaging instructors.
TRAIN AT YOUR LOCATION
We enable employers to provide specialized, on-location training on their own timetables. Our world-renowned experts can create unique content that meets your employees' specific needs. We also have the ability to deliver courses via web conferencing or on-demand online videos. For 15 or more students, it is more cost-effective for us to come to you.
Save Money

Flexible Schedule

Group Training

Customize Content

On-Site Training

Earn a Certificate
Learn More