Modern Electronic and Digital Scanned Array Antennas
Overview
Course Content
Requirements & Materials
COURSE ID: DEF 1507P
Special Notice
Overview
Modern Electronic and Digital Scanned Array Antennas
Course Description
The Modern Electronic and Digital Scanned Array Antennas course provides an in-depth understanding of the physics and implementation of a wide range of array antennas. You will learn about the basics of array theory, simulation approaches, the impact of real-world errors and methods for array calibration, system-level impacts including bandwidth and subarraying, component technologies and their functions and uses, emerging digital techniques and their benefits, and the implementation of digital hardware.
Due to minimum enrollment requirements to hold a course, we ask that you register as early as possible. View our terms and conditions for further information. If you have specific questions or requirements, please contact the course administrator. 
Course Content
ARRAY THEORY
Linear and planar arrays
Directivity pattern synthesis and impacts of errors
Pattern Synthesis and Grating Lobe software demos (software provided to the students)
SYSTEM-LEVEL ISSUES
Frequency bandwidth and subarraying
Array Antenna Directivity pattern measurements
Alignment and calibration
RF chain analyses including noise figure and IP3
Cost considerations
COMPONENTS, THEIR CAPABILITIES, AND USES
Beamformers, analog, and digital
T/R module components including LNAs and PAs
Control components including attenuators, phase shifters, and time delay units
Radiators and radomes (with a brief discussion on radar cross section)
Scanning arrays without phase shifters
DIGITAL AND ADAPTIVE BEAM FORMING
Digital beamforming arrays
Sidelobe cancellation and adaptive methods (including a software demo)
Adaptive beamforming architectures
Digital techniques for angle estimation
Requirements & Materials
Important Information
This course requires completion of an access eligibility form. Please make sure you read the Course Restrictions section below before registering for this course. 
Materials
Provided
Book of the printed course slides

CD or DVD of course material including all software demos
Course Restrictions
This course is restricted to US citizens who are industrial and/or government employees and complete the Access Eligibility Form. Eligibility questions should be directed to 404-407-6661. Attendees must fax the Access Eligibility Form to 404-407-8691 or RShelp@gtri.gatech.edu. 
Session Details
Special Discounts: Georgia Tech Research Institute (GTRI) employees are eligible to receive a discount. If you are a GTRI employee, please go to the Organizational Development website and look for the coupon code under GT Professional Development. Review coupon instructions for more information.
Items to Purchase
Not applicable
Items to Purchase
Not applicable
Items to Purchase
Not applicable
Who Should Attend
This course is designed for a range of potential project personnel including system and subsystem engineers and developers, program managers, and technicians. The course will include examples of array systems and component examples for radar, electronic warfare, signal collection, and communications applications.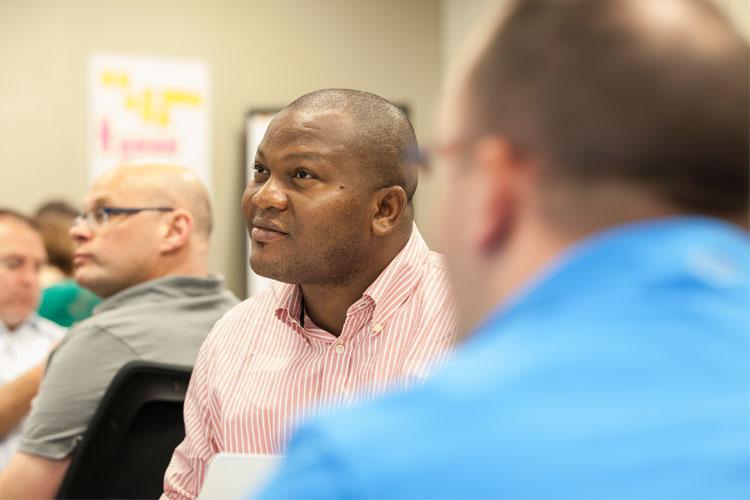 What You Will Learn
An introduction to array theory and array directivity pattern calculation
Analog component technologies, errors, and calibration methods
Issues with system integration and implementation
Digital beam forming (DBF) theory, benefits, and implementation
Adaptive DBF and angle estimation techniques
How You Will Benefit
Understand array theory and why we choose different array architectures.
Learn the availability, use of, and issues associated with analog array components.
Explore system-dependent issues and learn the trade space among different approaches.
Understand Digital Beam Forming (DBF) concepts.
Get insight into the advanced capabilities offered by DBF arrays.
Grow Your Professional Network

Taught by Experts in the Field
The course schedule was well-structured with a mix of lectures, class discussions, and hands-on exercises led by knowledgeable and engaging instructors.
TRAIN AT YOUR LOCATION
We enable employers to provide specialized, on-location training on their own timetables. Our world-renowned experts can create unique content that meets your employees' specific needs. We also have the ability to deliver courses via web conferencing or on-demand online videos. For 15 or more students, it is more cost-effective for us to come to you.
Save Money

Flexible Schedule

Group Training

Customize Content

On-Site Training

Earn a Certificate
Learn More