Passive Acoustic Sensing Systems Engineering
Overview
Passive Acoustic Sensing Systems Engineering
Course Description
Get better acoustics. In the Battlefield Acoustics Signal Processing course, you will learn the basic physical principles underlying the propagation of acoustic signals in the atmosphere. These environmental factors influence sound near the ground and typical sources of noise that degrade the performance of acoustic signal processing systems. Discover techniques, such as hardware configuration and software algorithms, for designing acoustic systems for solving problems of interest in the battlefield.
Course Content
OVERVIEW OF CLASSES OF PROBLEMS
Transient and persistent sounds
Stationary and moving sources and receivers
OVERVIEW OF CLASSES OF PROBLEMS
Plane waves and spherical waves
Harmonic and broadband signals
Power spectra
Correlation and coherence
Sampling effects in time and space
Dynamic range
ENVIRONMENTAL EFFECTS
Upward refraction and ducted propagation
Ground impedance and atmospheric absorption
Reflections
Atmospheric turbulence and wind noise
ARRAY SIGNAL PROCESSING – HARDWARE CONFIGURATION
Microphone selection and analog signal conditioning electronics
Digitizer selection
Array geometry considerations
ARRAY SIGNAL PROCESSING – SIGNAL DETECTION
Coherent detection
Anomaly detection
Receiver operating characteristics (ROC) curves
ARRAY SIGNAL PROCESSING – ESTIMATION
Time of arrival (TOA)
Time of delay of arrival (TDOA)
Direction of arrival (DOA)
Wavefront estimation (single and multiple simultaneous cases)
Source localization and data association
Using the ballistic shockwave when it is available
Fusion with EO/IR data
Cramer-RAO analysis
Introduction to tracking moving sources
ARRAY SIGNAL PROCESSING – NOISE MITIGATION
Session Details
Special Discounts: Georgia Tech Research Institute (GTRI) employees are eligible to receive a discount. If you are a GTRI employee, please go to the Organizational Development website and look for the coupon code under GT Professional Development. Review coupon instructions for more information.
There are no sessions scheduled at this time. Please check again later.
There are no sessions scheduled at this time. Please check again later.
Who Should Attend
This course is designed for engineers, scientists, and technical managers who are developing, specifying, or purchasing acoustic systems for battlefield and surveillance applications.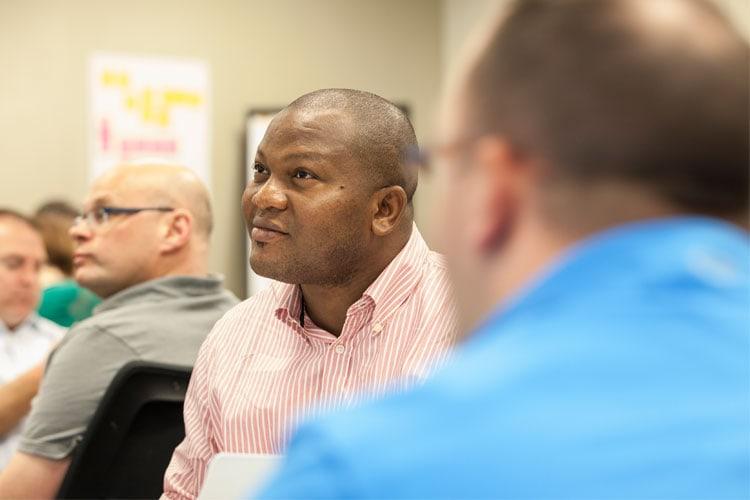 What You Will Learn
Transient and persistent sources
Stationary and moving sources
Receivers
Acoustic signal properties
Environmental effects
Array signal processing hardware configuration
Signal detection, estimation, and noise mitigation
How You Will Benefit
Understand issues affecting outdoor sound propagation.
Discover and perform basic signal analysis — transient and persistent.
Characterize common types of signals of interest.
Mitigate different sources of noise.
Estimate times of arrival, bearings, source locations, and real-time tracks using arrays.
Utilize acoustic sensing systems on mobile platforms.
Taught by Experts in the Field

Grow Your Professional Network
The course schedule was well-structured with a mix of lectures, class discussions, and hands-on exercises led by knowledgeable and engaging instructors.
TRAIN AT YOUR LOCATION
We enable employers to provide specialized, on-location training on their own timetables. Our world-renowned experts can create unique content that meets your employees' specific needs. We also have the ability to deliver courses via web conferencing or on-demand online videos. For 15 or more students, it is more cost-effective for us to come to you.
Save Money

Flexible Schedule

Group Training

Customize Content

On-Site Training

Earn a Certificate
Learn More