Precision Stabilized Pointing and Tracking Systems
Overview
Precision Stabilized Pointing and Tracking Systems
Course Description
Inertial stabilization, pointing, and tracking systems are designed to control the line-of-sight of an ever-increasing array of sensors, weapons, and other payloads of all sizes used in scientific, military, or commercial endeavors. Typical system configurations range from simple and almost crude to some of the most intricate and precise mechanisms ever devised by humans. This course is designed to teach the learner how to integrate the diverse set of multi-disciplined engineering technologies, components, and system configurations required in order to ensure a successful system design for a given application. Taught primarily from a systems-engineering viewpoint, the course includes sufficient detail in each of the technological disciplines involved to allow the learner to assess which are most applicable to his or her particular application, and apply them as necessary.
Course Content
INTRODUCTION
Definitions and systems concepts
Review of control systems principles
STABILIZATION AND CONTROL
Basic mass-stabilization and other LOS control techniques
Disturbance processes
Multi-axis kinematics and dynamics
Mirror-stabilized LOS control
DESIGN CONSIDERATIONS
Structural considerations
Precision electro-mechanical trunnion and gimbal design
SYSTEMS
Sensor and sensor systems
Tracking systems
Pointing and scanning systems
TOOLS
Simulation and analysis tools and techniques
Test and alignment tools and techniques
Session Details
Special Discounts: Georgia Tech Research Institute (GTRI) employees are eligible to receive a discount. If you are a GTRI employee, please go to the Organizational Development website and look for the coupon code under GT Professional Development. Review coupon instructions for more information.
Who Should Attend
This course is designed for program managers, marketing personnel, systems analysts, engineers, professors, and others who have a need to understand how inertial stabilization pointing and tracking systems are configured, designed, integrated, and used.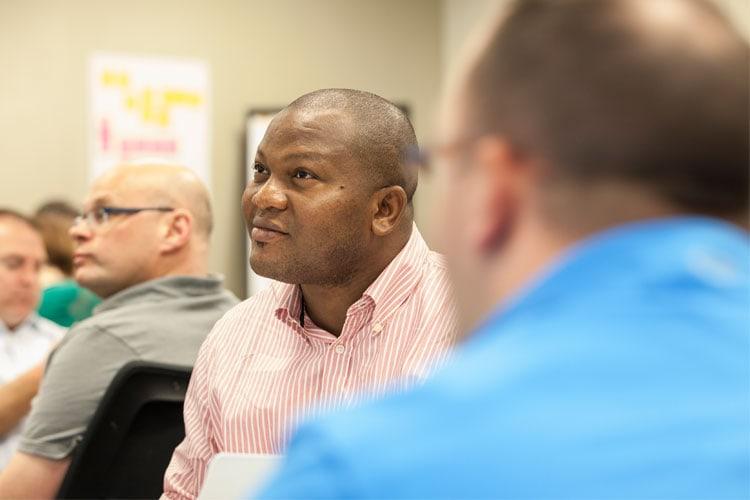 What You Will Learn
System concepts and requirements
Key control systems techniques and basic mass-stabilized system design
Multi-axis kinematics and dynamics
Structural considerations
Gear and band driven
Momentum wheel
Mirror stabilization and pointing systems
Key sensors, actuators, and other critical components and subsystems
Spacecraft system components and techniques
Pointing and scanning system design
How You Will Benefit
Learn the terminology, concepts, and basic systems requirements for controlling the line-of-sight of various sensors and other payloads.
Be familiar with typical system configurations and critical component characteristics required in the design of stabilized pointing and tracking systems, along with an introduction to some more advanced concepts.
Understand how the system kinematics/dynamics, structural characteristics, and various classes of disturbances affect system performance.
Gain knowledge about the control system and algorithm techniques and practices commonly utilized in the design of these systems.
Taught by Experts in the Field

Grow Your Professional Network
The course schedule was well-structured with a mix of lectures, class discussions, and hands-on exercises led by knowledgeable and engaging instructors.
TRAIN AT YOUR LOCATION
We enable employers to provide specialized, on-location training on their own timetables. Our world-renowned experts can create unique content that meets your employees' specific needs. We also have the ability to deliver courses via web conferencing or on-demand online videos. For 15 or more students, it is more cost-effective for us to come to you.
Save Money

Flexible Schedule

Group Training

Customize Content

On-Site Training

Earn a Certificate
Learn More