Learner Experiences and Services
Support a lifelong journey of learning
In 2018, GTPE offered an array of experiences and services to serve a variety of groups and communities. From launching a language-learning app, to workforce training in Costa Rica, to enabling high school students to earn math credits for college and more, GTPE has served learners and employers in innovative ways.
Education Brought to Costa Rica
Georgia Tech signed an agreement with Costa Rican investment promotion agency, CINDE, to provide workforce training in high-demand areas. Delivered via GTPE, the training includes courses in Lean Six Sigma, analytics and data science, cybersecurity, project management, and ESL, among others. Through this partnership, the Costa Rican government aims to increase skilled talent and prepare Costa Ricans for new job opportunities.
Read More
MOOC on Accessibility
Georgia Tech's MOOC, Information and Communication Technology Accessibility (ICT100x), was developed to enable employers to meet the accessibility needs of employees and customers. It won an award by the Zero Project in Vienna, Austria. The course addresses the importance of creating an inclusive workplace and was recognized for it's innovative practice in accessibility. Georgia Tech's AMAC launched the course in 2016 with the help of GTPE, the Center for 21st Century Universities (C21U), and G3ICT, the Global Initiative for Inclusive Information and Communication Technologies.
Read More
Learning by Design
By introducing degrees-at-scale to the world, Georgia Tech has become a leading voice in education innovation. Its learning systems experts have devised ways to serve hundreds of online learners without compromising on quality or rigor. As technology continues to evolve, GTPE's learning design team forges ahead to bring world-class Georgia Tech content to learners worldwide – while blazing a path for other universities to follow.
New Language-Learning App
The Language Institute and C21U collaborated to design a language-learning app to help non-native English speakers improve professional communication for successful business interactions. The app, Speak English Professionally, is based on the Language Institute's successful MOOC by the same name. By the end of FY2018, the MOOC had more than 215,000 enrollments and total enrollments for all Language Institute MOOCs exceeded 398,000 with enrollments increasing by 20 percent.
Read More
International Student Support
The Language Institute, in collaboration with the Office of Graduate Education and Faculty Development, developed and launched a number of support initiatives for international graduate students. Custom-designed courses on academic writing, strategic listening, and strategic reading have served more than 115 international graduate students since Spring 2017. Other initiatives include a screening process and support courses for 30 international teaching assistants (ITAs) in Summer and 40 ITAs in Fall 2018.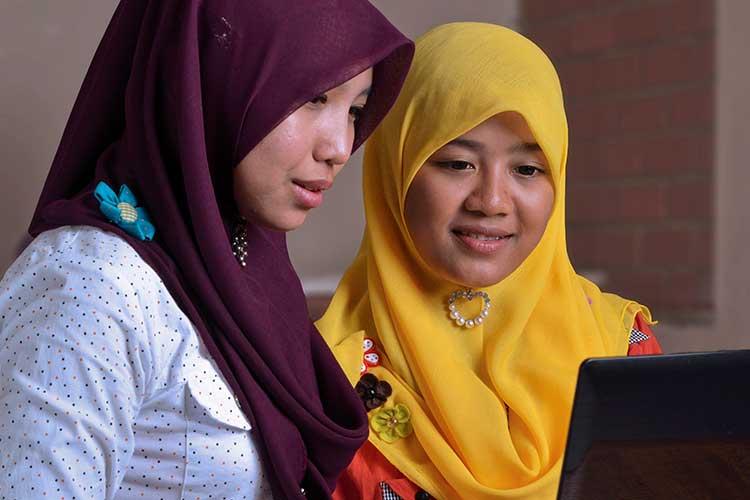 Digital Learner Experience
GTPE aims to make improvements in "learner experience" with a digital strategy whose vision is to deliver a unified and engaging digital experience for all GTPE customers by pursuing four objectives: continuous website enhancements to increase engagement all along the customer journey; implementation of integrated CRM and marketing automation platforms for greater personalization; work efficiency, and marketing ROI; updating digital marketing skills and practices with new partnerships, training and resources; and creating a Voice of the Learner insights initiative. The phase one implementation of Salesforce CRM and MarketingCloud for marketing and admissions of online graduate programs and the integration of GTPE's Drupal website is resulting in more personalized communication and improved ROI of marketing efforts, as well as better business intelligence from one data source of truth.
Learner-Centered Service
The proactive, learner-centered approach of the academic programs team at GTPE enables learners in our online Master of Science (OMS) programs to focus on their coursework while the team handles the administrative aspects. The team provides guidance to learners from recruitment all the way through graduation. Learners in the OMS degrees get the personal attention and advice usually associated with small, limited-enrollment programs although thousands of learners are enrolled in these highly popular degrees-at-scale.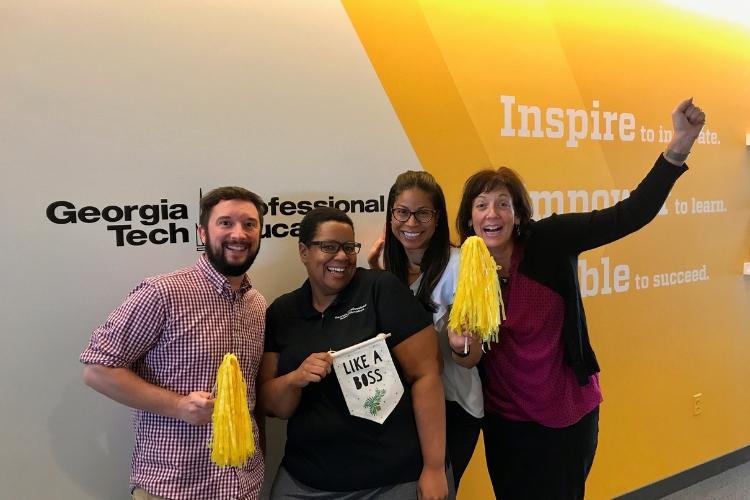 Registration Guidance
The professional education registration services team manages registration for public and custom courses, provides guidance to students who qualify for funding for specific programs, and addresses any questions current or prospective learners may have when they sign up for our programs. In FY18, this team completed an estimated 29,000 email transactions, 4,000 phone transactions, and reviewed and monitored 18,000 registrations and payments.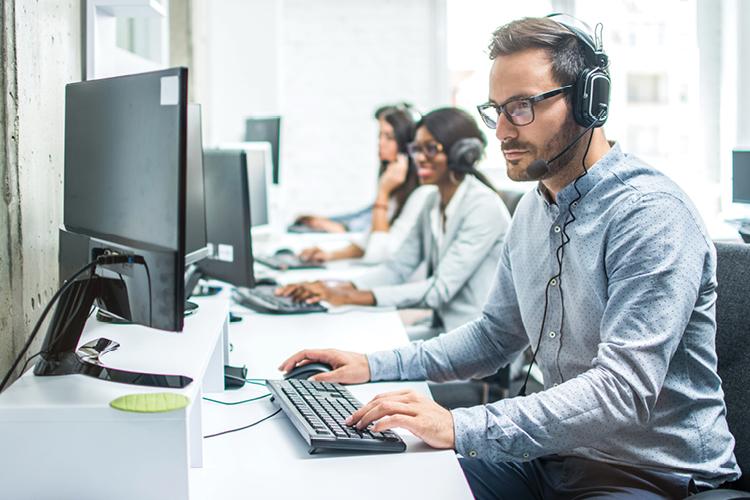 State and Community Support
As a partner to the state of Georgia, GTPE has devised solutions to advance state educational goals through programs that address a range of communities. Veterans, state and business leaders, undergraduate students, K-12 students, and adult learners have been the beneficiaries of GTPE's community support initiatives this year.