Leadership in Project Management
Overview
Course Content
Requirements & Materials
Overview
Leadership in Project Management
Course Description
The Leadership in Project Management course provides deeper understanding of what being a project leader is all about. This course will enhance project team leadership skills and enable robust stakeholder collaboration strategies. Relationship management techniques include but are not limited to: heightened conflict resolution ability, increased focus for project team and stakeholder development, and overall promotion of project team performance via emotional intelligence (EQ).
Course Content
ADVANCED ROLE OF THE PROJECT MANAGER
Introducing the evolution of the project manager towards an organizational leader
CONFLICT RESOLUTION
BUILDING A TEAM
Includes Tuckman Ladder model and conflict
LEADING TEAMS
Introduces relationship management techniques
STAKEHOLDERS
Introduces cross functional internal stakeholders
EMOTIONAL INTELLIGENCE
Includes actual 45 minute EQ assessment
COLLABORATION STRATEGY
Includes three-step approach and model
BEYOND THE ROLE OF THE PROJECT MANAGER
Introduces leadership elements outside of the project team
PEOPLE DEVELOPMENT
REMOVING BARRIERS
NEGOTIATION
REAL LEADERSHIP – CASE STUDIES
Session Details
Items to Purchase
Not applicable
Items to Purchase
Not applicable
Items to Purchase
Not applicable
Items to Purchase
Not applicable
Who Should Attend
This course is designed for project managers, professionals preparing to transition into a new career in project management, business analysts working with project managers and project teams, technical team leaders, and managers.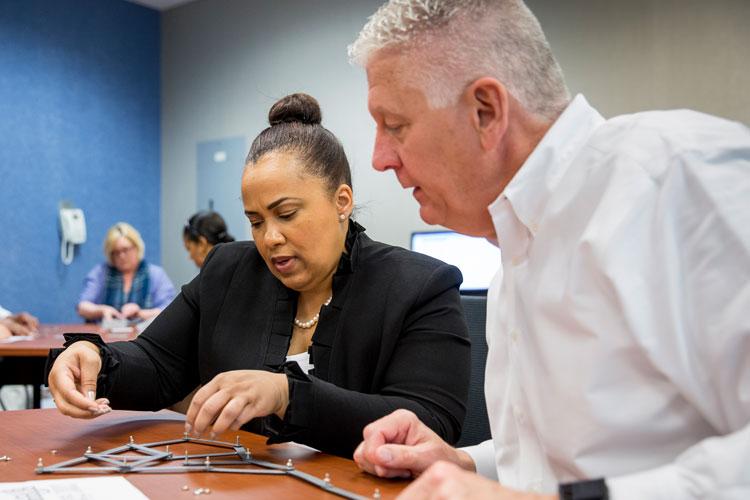 What You Will Learn
Project team leadership skills
Robust stakeholder collaboration strategy
Conflict resolution skillset and tools
Project team and stakeholder development
Overall promotion of project team performance via EQ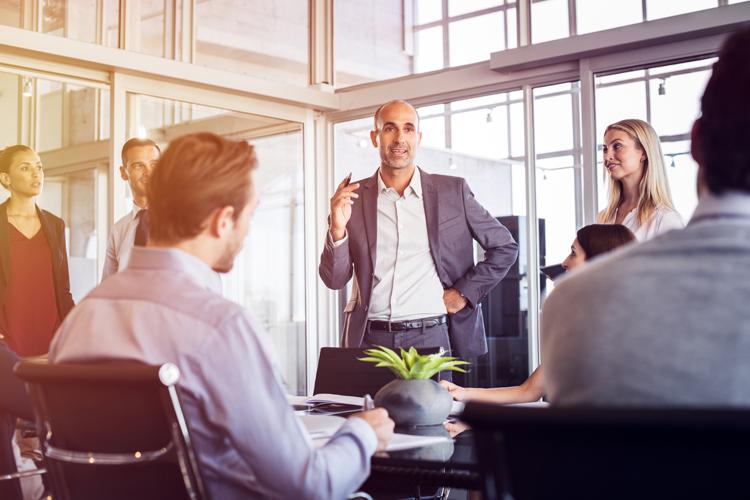 How You Will Benefit
Understand the difference between management versus leadership.
Gain relationship management techniques including conflict resolution and EQ.
Take an EQ assessment and begin to develop self-awareness for improved leadership.
Develop both project team members and mentor key internal stakeholders.
Learn cross-functional collaboration strategies.
Lead at an organizational level that ties back to delivery of the project strategic benefits.
Taught by Experts in the Field

Grow Your Professional Network
I am thinking more strategically and doing things with more insight about the people I work with in order to meet goals that improve overall results, provide quality service, and produce better products.
- Howard Dickens
Assistant Director of Marketing
TRAIN AT YOUR LOCATION
We enable employers to provide specialized, on-location training on their own timetables. Our world-renowned experts can create unique content that meets your employees' specific needs. We also have the ability to deliver courses via web conferencing or on-demand online videos. For 15 or more students, it is more cost-effective for us to come to you.
Save Money

Flexible Schedule

Group Training

Customize Content

On-Site Training

Earn a Certificate
Learn More